FAQs Max-Air Nose Cones®*
How do i determine what size to order?
It's easy to determine your size of Max-Air Nose Cones.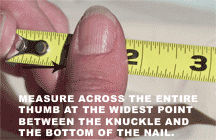 (No need to put your thumb in your nose. Just use this simple method and let our sizing system do the rest.)
Use a ruler 
1 – Place your thumb at the beginning edge of a ruler, press down on the ruler and then find the widest measurement mark showing on the ruler.
2 – Measure the entire width of the thumb (including the skin) from the left side to the right side, as shown.
3 – Use our sizing chart as reference to determine what size Cones to order based on the width of your thumb.
If your thumb measures:
3/4″ (.75 of an inch) or less, select the size small.
If your thumb measures more than 3/4″ to 1″ (.75 of an inch to one inch), select the size medium.
If your thumb measures more than 1″ (more than one inch), select the size large.
Please note: If you are right on the line between two sizes, we suggest ordering both sizes. Sometimes nasal airways are not the same size and two sizes are necessary. If this is the situation with your nasal airways, try each size in each airway to determine which size fits which nasal airway best. Choose your size carefully because we are unable to return, nor exchange, tried, or used, cones, due to hygiene reasons. 
How do Max-Air Nose Cones differ from other remedies?
The advantage of the Cones is that they are adhesive-free and drug-free, so there is no skin irritation or side effects; and, they are soft and specifically designed for reliable comfort and extended use. They are also reusable for maximum value and convenient use.
Because the Cones are a nasal dilator device, you are in control of your nasal breathing relief. Feel increased breathing volume immediately as soon as you put them in – no waiting for hours or weeks for relief, or having to take medications when you don't need them. Use them only when you need maximum relief and only as long as you need breathing relief. Simple-to-try and easy-to-use, our nasal cones make an perfect addition to your healthcare choices for staying healthy, active and well rested. The beauty of the Nose Cones is the quality of your sleep.
How soft and safe are your nose cones nasal dilators?
The FDA-certified medical grade materials were carefully selected after extensive testing for their superior properties of soft-comfort, yet resilient stenting-action.
Their materials are ISO-10993 certified, proven hypoallergenic, latex-free, and are safe for extended wear, and use with all medications, CPAP, and with oxygen.
The first time that you wear the new Max-Air Nose Cones®*, you may be surprised at the comfort and amount of breathing relief that you feel. In fact, in a recent clinical study, Max-Air Nose Cones® were shown to increase breathing volume by a whopping 110%. Breathing easily, deeply and fully, feels amazing.
Getting started: to acclimate your nose to the Max-Air Nose Cones®, we suggest that you place the Cones in your nasal airways a couple of times in advance of wearing them to bed. Try inhaling a few times to see what maximum relief feels like. Allow a couple of minutes to adjust to the feel of the soft framework of the nasal cones in your nose, as you swivel them around and adjust the angle to insure maximum airflow.
(Most people find that wearing the Cones is similar to putting on a pair of sunglasses. You can feel them at first, and then, within minutes, you forget that they are there.)
Are the Max-Air Nose Cones latex-free?
The Max-Air Nose Cones®* are latex-free, hypoallergenic and made with premium quality medical material that is FDA-certified for safe reuse. The Cones' material has been extensively tested for the highest levels of safe use and specially selected for comfort, reusability, and easy cleaning.
How are doctor recommended Max-Air Nose Cones right for me?
If you are tired from sleep loss due to snoring, nasal congestion, a deviated septum, sinusitis, frequent head colds, sinus infections, blocked nose or collapsed nose and are seeking high performance, drug-free, comfortable, reliable breathing relief, then Max-Air Nose Cones® are a good choice to make.
Can i reuse the Max-Air Nose Cones, and when should i replace them?
The Cones are reusable and each box contains a 3-month supply. (IMPORTANT, SINCE THE MATERIAL DEGRADES WITH USE, DO NOT EXCEED MANUFACTURERS RECOMMENDED LENGTH OF USE).
Each box comes with 2 sets of Cones, which means that each set should last up to 45 days, resulting in 90 days worth per box. Our closest competitor has 3 sets in each box, but only lasting 10 days per set. Although their price is AUD$29 per box, the 3 sets they supply in each box would only last 30 days in total. Hence, at AUD$39 per box, Max-Air Nose Cones® are much better value when compared.
How do i clean my Max-Air Nose Cones?
The Max-Air Nose Cones® are easy to clean for maximum value. First, be sure to wash your hands thoroughly. Once your hands are clean, then simply rinse your Max-Air Nose Cones®*thoroughly in hot tap water, and shake dry. Use of soap is not recommended as it may leave a residue, which may irritate the mucosal lining of the nose.
Be sure to clean theMax-Air Nose Cones® before each use. You may find it easy to store them in your medicine cabinet, so that you can rinse them and pop them in just after you brush your teeth for bed. The Cones may be slipped in while they are still warm to sooth and comfort your nose.
How do Max-Air Nose Cones perform compared to breathe right nasal strips?
Independent clinical research published in the Annals of Allergy, Asthma and Immunology reports that the Cones maximize peak nasal inspiratory airflow in study subjects with complaint of nasal allergy congestion, and outperform the nasal strips by a whopping 60%, in comparative analysis of similarly conducted studies.*
And, in another recently conducted clinical research, Max-Air Nose Cones®* were shown to offer 200% greater inspiratory nasal airway relief than Breathe Right Nasal Strips.
*Please note: Copyrighted materials are the property of SANOSTEC CORP. and are reproduced with the written permission of SANOSTEC CORP of USA.